The Smoke Shop BBQ Combines Upscale Dining and Down Home BBQ (4 stars)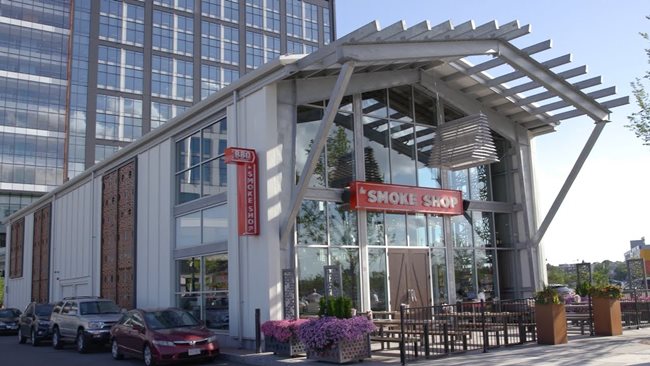 I have long lamented that you can't get good barbecue up north because they just don't do it right. Maybe it's the lack of traditional cooking. Maybe it's that we are so impatient we don't have time to smoke meat for hours. Or perhaps it's just not what New Englanders are used to.
Well The Smoke Shop at Assembly Row doesn't buy that story. It aims to create good old fashion barbecue in an upscale environment. So if you like meat, then this place is for you. They have many of the traditional fixins as well.
When you are first seated, you will notice that there are three sauces to choose from on your table. Gold Medal, Hot Streak, and Sweet Victory. The names alone get you primed to slather them on your upcoming feast. Looking over the menu, you notice that most of the options are in the form of dishes with meats of various types. We decided on pulled pork, brisket, and smoked turkey. We were able to get three different animals on one plate plus three side dishes. I chose collard greens and bacon, Brussels sprouts, and coleslaw.
The beverage selection was great for the craft beer enthusiast looking for local fare. Night Shift and The Winter Hill Brewery had beers on tap. Plus there was a wide selection of bottled beers from the common national brands on to local craft beers. There was a full service bar so almost any cocktail can be yours.
Onto our food. The brisket was by far my favorite. It was tender and smoky. When paired with the sauces, it served as an excellent way to experience BBQ. The pulled pork was also quite good. And again was perfect to try with each sauce. The turkey was nothing special, adequate as a far as turkey goes. It was supposed to be smoked, but it lacked any real smoky taste. After the brisket, it seemed lacking.

As mentioned, the sauces make the BBQ. I am not a fan of mustard sauces for barbecue but the Gold Medal was quite good. It was just a bit spicy and the mustard was not overpowering. I found myself going back to this one even though I would not have predicted it. It paired well with the turkey. The Hot Streak was hot and sweet, but not too hot. Which I prefer since a little spice can enhance the flavor while too much can be all you taste. This sauce got it right. My favorite was the Sweet Victory, which was a good BBQ sauce for all occasions. It paired well with the brisket and pulled pork.
Finally I have to say something about the sides. Good barbecue is nothing without the fixins. The Brussels sprouts had a mildly sweet molasses flavor that did much to add to the taste. The collard greens and bacon were also quite good. The coleslaw was a disappointment. It was listed as sweet and spicy, but was really salty. Coleslaw is too important of a barbecue staple to not be done right.
Also, maybe we just got unlucky this one time, but unfortunately our food was served lukewarm. And the prices were in the middle of the road. Most dishes were priced in the upper teens with some hitting the 30s. That makes The Smoke Shop BBQ not a place for a large family feast, but not bad for an intimate dinner with friends. The portions were large enough for value.
Overall, the Smoke Shop delivers barbecue up to the north. Your experience may vary, but prices could be lower, food should be warmer, and we didn't care for one of the dishes and one of the sides. So I can't quite give it a full 5 stars. But the brisket and pulled pork were enough to get me back in the door so that we can give it a try another time. I have to say the sauces were a big hit. Those alone are worth checking out. So if you want a craft beer, a cocktail and some brisket, check out The Smoke Shop BBQ at Assembly Row. 4 stars.
See thesmokeshopbbq.com.